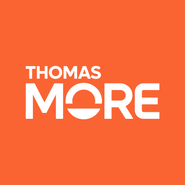 Making a difference for vulnerable social groups, that's what we're going for! Diversity and inclusion are our drive and we realize this step by step with this hardworking and cheery team. Being in charge of such a top team gives me energy!
"Together you get further" is our daily motto and this is how we learn from each other and realize the legendary high-quality deliveries of our team.
As a workaholic I don't take enough time for sports, but it's on my 'to do' list 😉
Proud to work for an organization that tackles social challenges. Working together with colleagues who make a difference with full enthusiasm and drive; that's what i'm going for.
"Somewhere inside all of us is the power to change the world" – (Roald Dahl)
Long walks with the dog, cooking (and eating) for and together with family and friends, reading and listening to music, … give me energy.
"The best way to predict the future is to create it." A quote from psychologist Skinner.
This is true on a personal level, but certainly also on a social level. I am happy to be part of an organization and especially a great team that pursues change and improvement through applied research.
In my spare time I like to go for a walk, I enjoy reading a book and I like to learn new things that appeal to me.
Active member of the large Thomas More family as a teacher, researcher and project officer. Likes to be on the road as an initiator of ideas, brainstorming and experimenting, looking for new adventures in which people and ideas can grow.
My motto: there is no such thing as bad weather! There's never a reason not to go out…
Our society is becoming more and more diverse; that creates new dynamics. It raises questions and regularly leads to heated debates. I find it very fascinating how these new dynamics work. And above all this question: on which compass can we sail in the midst of these changes? How to work towards a just society in diversity?
In my work I now mainly focus on higher educated non-native speakers who want to obtain a Flemish diploma here. It's an opportunity to get hands-on and work with those people, colleges and universities. At the same time, it is an interesting experience to learn lessons for the policy and for the broader work of Inclusive Diversity.
Besides work I get energy from and put energy into the family, making music and enjoying nature.
Always creative with sounds and images: from writing music to graphic design and web design…
Where I feel passion and justice, I feel like a fish in the water, and building a world where there is a place for everyone is close to my heart. After all, every voice is one that needs to be heard!
I take care of the team's presence on social media, graphic design and I help build the websites.
My spare time is also filled with music and design. I also spend a lot of time in the gym. Reading a good book and taking long walks in nature also provide the necessary relaxation.